There is a lot of skill involved in entertaining a large group of people. Anyone can play a CD, Marino Brothers does so much more than that. Our DJs make sure that once you arrive at your reception, you can simply relax and feel comfortable knowing you've hired the best. Listed below are just a few of the many reasons why Marino Brothers wedding deejays can help make your special day a memorable one.
Not one, but two personable and experienced wedding disc jockeys will ensure that every detail of your reception will be taken care of without any break in the action.
Sharp, mature disc jockeys dressed in tuxedos by American Commodore. The elegant, professional attire of your DJs will add to the ambiance of your special day.
Marino Brothers famous Bridal Party "Grand Entrance" into the reception hall. This gets things going with an exciting start to your reception's festivities and involves your guests right away!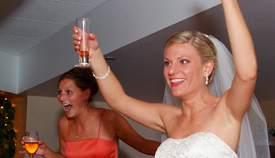 State-Of-The-Art music systems set up in an attractive bridal fashion. Our professional sound and lighting systems will ensure that everything looks and sounds exactly as it should at your reception.
Music tailored for your taste and played at a comfortable level. This is your day. Our goal is to make sure it's everything you wished for.
Cordless microphones for the Best Man's Toast allows the best man to be heard throughout the reception hall and still remain near the bride and groom.
95% of our work are wedding receptions, so relax and have a great time! Call us today at (330)562-3364