Wedding Reception Lighting in Cleveland, Akron, Columbus & Cincinnati:
Lighting is essential to any event, especially your big day. Wedding lighting sets the tone of your wedding reception or event from the instant guests arrive. There are several options & combinations available to you. Marino Brothers will help guide you through these wedding lighting options, and make your visions come to life with light. Marino Brothers will work with you and your wedding day coordinator, florist, decorator or planner. We offer free consultations to ensure that everyone is on the same page and every element and detail is captured.
Set the tone with breathtaking lighting and uplighting to enhance your theme and excite guests! Our lighting services can be color coordinated with your wedding colors. Our lighted monogram or GOBO is also a special way to customize your night, many different designs to choose from. It can then be used as a spotlight throughout the night. Watch the transformation change right before your eyes with our cordless, 4 color, LED lights. We also have color changing ability that we can do throughout the night. Most rooms can be illuminated with 8-10 lighting features.
If you are planning a wedding in Cleveland, Akron, Columbus or Cincinnati, call Marino Brothers wedding lighting for a free quote at (330)562-3364.
---
Uplighting:
Uplighting is the most popular type of wedding venue lighting. Whether your reception is in a ballroom, restaurant or tent, uplighting the walls is an affordable way to add color and character to the space. There are many different ways to uplight a venue. One option is to uplight all of the walls in the entire space. Another option is to only uplight the architectual features. The uplighting can be achieved in several different ways, depending on what fits best for your overall theme. LED uplighting allows the ability to change color throughout the event.
---
GOBO Lights:
Gobo lighting or monogram lighting is a light projecting an image or words. Anything imaginable can be made into a custom gobo, from monograms to names & dates and anything in between. Black and white to a full color image can be projected onto virtually any surface. The photo to the right is an example of the bride & groom's names, projected onto the floor area of the bar.



---
Dance Floor Lighting:
These options are similar to your options for your ceiling wash. Dance floor lighting is an excellent way to get your guests up and having a great time at your reception. A dynamic dancefloor lighting package is the way to go here. By using automated light fixtures, or "movers", we can bring to life your wedding reception with both color & texture. Movers provide the most flexibility for dance floor lighting, as they allow us to change color and texture through out the event. LED fixtures are a middle of the road option, not as costly as automated lights, but offer the ability to have color changes through out the evening of dancing. However, we can also do amazing dance floor lighting with the conventional lighting fixtures. This photo was lit with LED fixtures.


---
Ceiling Wash Lighting:
There are several visually interesting ways to make your reception space come alive with light. Ceiling wash lighting can be either a solid color or color changing. Texture can be added as well. There are many patterns to choose from to add dimension to the ceiling wash. From a sharp distinct image to a soft subtle pattern, an interesting ceiling wash can help enhance your theme and personal style with your wedding lighting. The photo below features a ceiling wash with texture, here we used palm leaf patterns with light blue color. The photo below features a blue color wash with a star pattern projected over top of the color. Any color can be achieved with either incandescent or LED fixtures.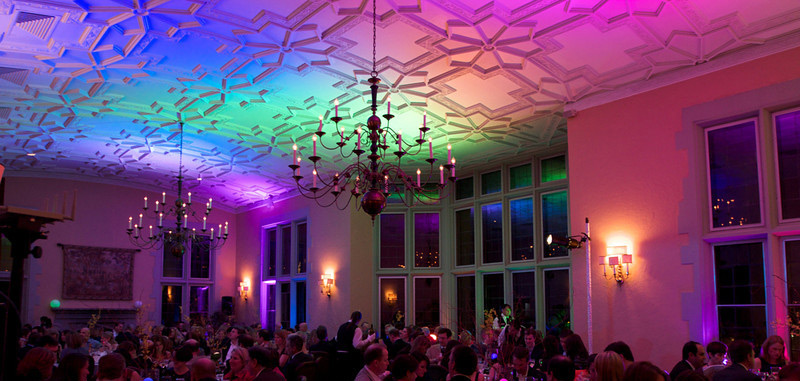 ---
---
Video Mapping Base Package:
Base package includes (2) projectors, stands & cabling, computer, mapping software, design services, setup & operation.
100's of motion graphics & themes to choose from (flames, bubbles, balloons, flowers, hearts, raindrops, fireworks, ocean waves, roses, moon & stars & snowflakes just to name a few). We will work with you to create a design based on your likes and/or theme & layout of venue. 2 projector base package is designed to cover usually one wall approximately 75ft. wide.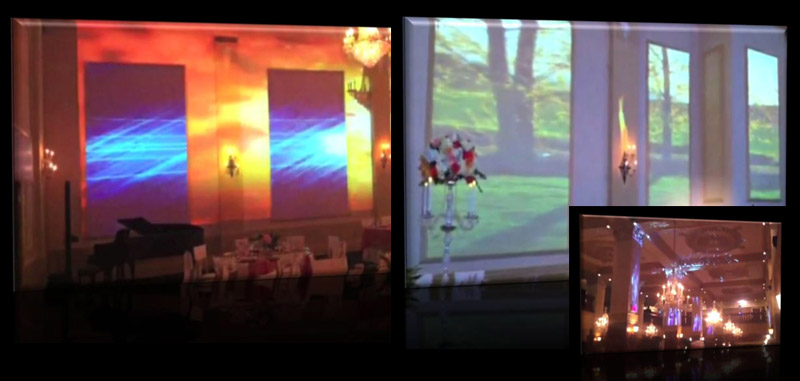 Add-on Package:
If more surfaces are desired to be mapped, we provide a (2) projector add on which will cover an additional wall or ceiling surface of a venue. Includes everything in base package plus the 2 projectors, stands, cables & video cards. One add on package required for each additional area to be mapped.
---
Photo Gallery Option (add to any package):
Turn the walls of the venue into a digital photo gallery of your chosen pictures. Pictures will display over their selected motion graphics in different shapes & locations turning the wall(s) of the venue into a picture gallery. Up to 100 pictures accepted.



---
Motion Graphics Monograms:
Adds motion & displays to monogram, (example: names crisscrossing, wedding rings interlaced & rotating, fireworks bursting from names)



Digitally Projected Static Monogram:
No metal or glass gobo's required
---
Seating Chart (Beta Version) (No image available at this time):
Project the guest seating chart onto a wall or floor in the venue foyer (space permitting) or on the dance floor.
---
Wedding Photo Booths:
Find out why people are raving about Wedding Reception Photo Booths! The California rage is here and ready to make your wedding reception a unique night to remember. Our wedding photo booths come with plenty of props and will help you capture and share the fun that happens behind the curtain on your special night. Our photo booths are professionally set up and always manned for 5 hours. Your guests can also add personalized text to their pictures! The bride and groom also get a flash drive with all of the night's photographs AND we also include a scrapbook of the entire nights photos!
---