Wedding DJs, Lighting, Photo Booths and more!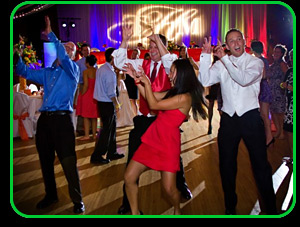 Marino Brothers has been in business for over 30 years. We are and always have been family owned. We are professional, friendly and always ON TIME! We have been providing musical entertainment excellence for Weddings, Bar/Bat Mitzvahs, Corporate Events, Parties, Anniversaries, Banquets, Reunions, Picnics and many other social events in Cleveland, Akron, & Columbus. Having performed at thousands of events over the years, we have many happy customers. References are available upon request. For your peace of mind and everyone's safety, Marino Brothers Disc Jockeys is fully insured for any special occasion.
If you are planning a wedding in Cleveland, Akron or Columbus, call Marino Brothers Wedding Deejays & Lighting for a free quote at (330)562-3364.
Anyone can push the play button and make music. We believe in taking every wedding we do to the next level! We are not just DJs anymore...We don't just stand behind the booth and look out...We are Interactive and FUN! We are Dance Jockeys! Our DeeJays/DJs are experienced, detail-oriented wedding specialists who possess an outgoing personality. They are skilled at crowd motivation and will keep your guests involved throughout your event using just the right mix of music, dance, and audience participation. Our Disc Jockey/MC Interactive Entertainers will create the party atmosphere you prefer, whether you choose elegance and refinement, high energy and excitement or something in between.
Our Wedding DJs are the best in the business! All of our DJs have several years of experience and are well trained! We always work in teams of two. With two of us at your wedding, we can really have FUN with YOU as well as maximize your time. (On average we can save our Brides and grooms 25 to 35 minutes by having two Marino Brothers taking care of them on there BIG DAY)

From the moment you first contact Marino Brothers all the way to your the last song of your night, Marino Brothers is with you every step of the way. So Relax...Sit Back...Have FUN and enjoy the RIDE!!!